Are you a beginner or experienced, or someone totally new to software? Educative got it covered everything for you.
Over 1.1 million learners trust educative courses, working for companies like Netflix, Facebook, Apple, Google, Amazon, etc.
With a vast(and growing) library of 770+ hands-on courses, you'll find plenty of content to sink your teeth into, regardless of your goals.
It's no wonder that educative learners work at FAANG companies because of their curated learning paths on the page - Educative Learning Paths.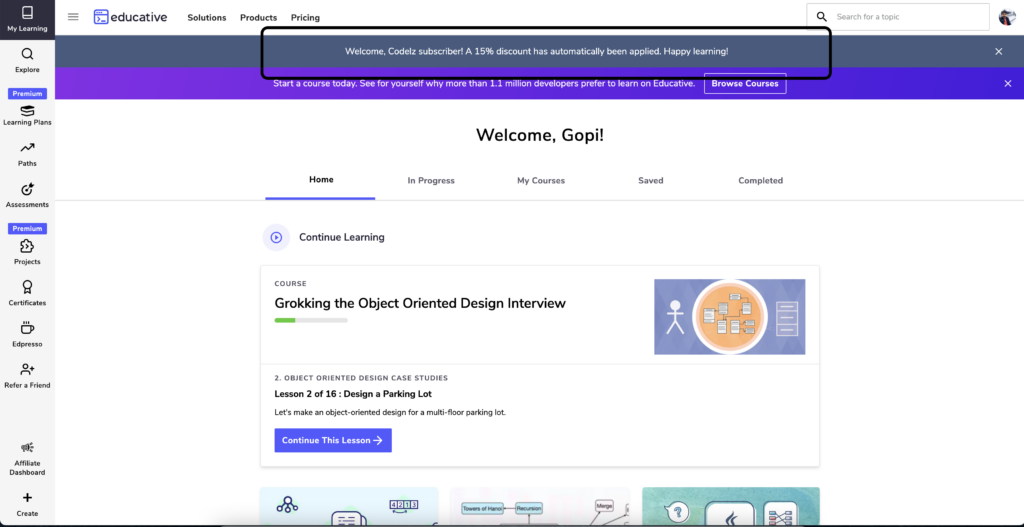 Introduction
Educative.io is an online learning platform providing interactive courses and tutorials for software engineers, developers, and tech professionals.
The platform offers a wide range of courses in various topics, including software development, data science, machine learning, artificial intelligence, cloud computing, and more. Educative.io's courses are designed to be hands-on and project-based, so learners can apply what they learn in real-world scenarios.
Educative.io is an online learning platform that provides interactive coding courses and tutorials for software developers, programmers, and other technical professionals. It offers a wide range of courses in popular programming languages such as Python, Java, JavaScript, and many others.
The platform uses an interactive coding environment that allows learners to write and run code directly within the course material. This approach makes learning to code more engaging and interactive and helps learners retain what they learn more effectively.
Overall, Educative.io is a powerful learning platform for developers and programmers who want to improve their skills, learn new technologies, and advance their careers in tech.
🤔 Why choose educative.io?
The courses on Educative.io are designed to be interactive and hands-on, with a focus on practical skills and real-world applications.
The platform offers a variety of learning formats, including
text-based tutorials,
coding exercises,
interactive coding environments,
and video lectures.
Each course also includes quizzes and assessments to help learners test their knowledge and track their progress.
One of the unique features of Educative.io is its Code Playground, a web-based coding environment that allows learners to practice and experiment with code directly in their browser.
They help developers to be more productive.
They have 1.6 million developers learning in their platform, working in companies like Netflix, Meta, Apple, Google, and Amazon.
Are you bored with watching videos from YouTube or other learning platforms where you can't take notes or bookmark the video at a particular timeframe?
Educative makes it easy for you. Everything is text-based. You can bookmark, highlight and even switch between Light & Dark themes.
👨🏻‍💻 What languages do they support?
The Code Playground supports a variety of programming languages, including:
Python
Java
JavaScript
C
C#
Swift
Objective C
Rust and many more.
🤩 Bonus
You can highlight the text and it saves in your own profile for future revisions. Isn't this great?
Plus, you get to add notes on the highlighted text, which is a notable feature.
✍️ Discussions and collaborations
Another noteworthy aspect of Educative.io is its emphasis on community and collaboration. Learners can join online discussion forums and chat groups to connect with other learners, share their work, and get feedback from experts in their field.
The platform also offers mentorship programs and career services to help learners achieve their professional goals.
🤑 Is everything paid in educative?
Educative.io offers free and paid courses, with various pricing plans to fit different budgets and learning needs. The platform also offers enterprise plans for companies and organizations looking to train their employees in specific skills and technologies.
Overall, Educative.io is a robust and comprehensive online learning platform that provides learners with a flexible and engaging way to develop their skills and advance their careers in the tech industry.
How educative.io differs from others?
Educative.io differs from other online learning platforms in several ways. Here are some of the key features that make it stand out:
Interactive Learning
Code Playground
Focus on Practical Skills
Pricing and Plans
FAQs on Educative.io
1. How can I get free access to educative.io?
You can get 6-month free access to educative.io. To access that, you have to be a student currently enrolled at any university and must have access to the GitHub student pack.
2. On completion, does Educative.io provide certificates?
Yes, if you are a paid member and have access to the content, you are eligible for a valid Educative.io certificate, which will be issued upon course completion.
What does educative offer?
Courses are text-based with embedded coding environments that help you learn without the fluff.
Level up your coding skills—at the speed you want. Learn at your own pace. In-browser exercises. Free Sign-Up. Free preview lessons.
They make it possible with their "interactive-course-based learning", no setup required, and no more passive learning.
Interactive in-browser environments keep you engaged and test your progress as you go.
They update courses every month.
Some of the highlights of educative are detailed below.
1. Learn at your own pace
Educative courses are text-based so that you can skim along (or double back) at your own speed, not someone else's.
2. They handle the setup, and you focus on learning
They loaded each course with pre-configured coding environments to let you practice as you learn. No set-up, ever.
3. There's something for everyone
Educative courses cover a range of topics for all skill levels. You will find something you can sink your teeth into.
Text highlighting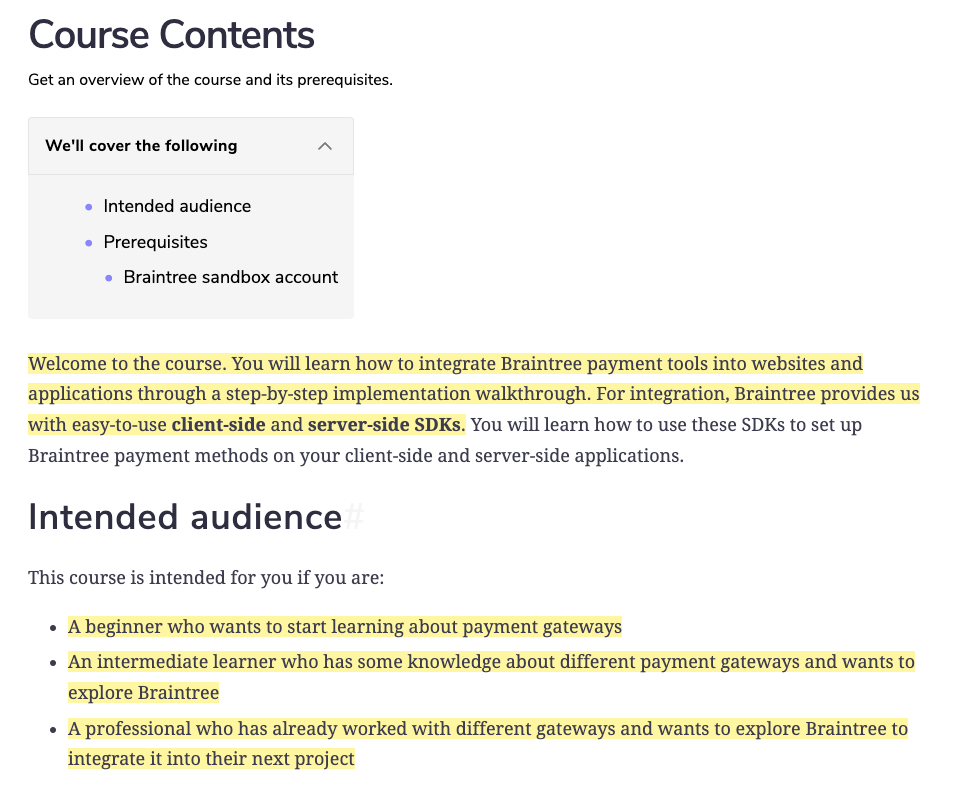 The Educative Difference
Shake the rust
Has it been a while since you used a certain skill? Educative hear that a lot. Their hands-on courses help you practice right in your browser, so you'll sharpen those skills in no time.
Interview Prep
Land your dream job. They can help whether you are days or weeks away from your next technical interview. Their customers now work at FAANG and Fortune 500 companies around the world.
Grow your career
95% of engineers want to learn a new skill each year. Join them and speed up your growth with our interactive experiences that help you test, learn, and grow.
Better than videos
Reading is faster than watching: they spoke the average tutorial at 150 words per minute. You can read at 250. That's why their courses are laid out as rich text and interactive experiences, so you learn more, learn faster, and learn exactly what you need.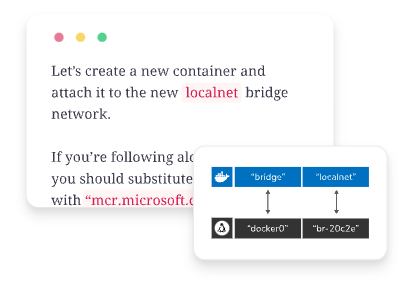 Slick coding environments
Have your team practice as they learn with full-fledged code playgrounds inside their browsers.
No time is wasted on set-up
Dozens of technologies supported
Test skills with in-course Assessments
Curated Paths
Go in-depth and become a subject matter expert with our hand-picked, curated content.
Python for Programmers
Become a Machine Learning Engineer
C++ for Programmers
Ace the JavaScript Coding Interview
TypeScript For Frontend developers
DevOps for developers
Become a Front End Developer
React for Front-End Developers
Java for Programmers
Python Data Analysis and Visualization
Scalability & System Design for Developers
Ace the Java Coding Interview
Ace the Python Coding Interview
Ace the C++ Coding Interview
Ace the Front End Interview
Become a Kubernetes Professional
Become an AWS Professional
Become an EmberJS Developer
Fundamentals of DevOps
Become a Spring Boot Developer
React Development for Professionals
React App Testing
Become a Node.js Developer
Become a Database Professional SQL
Become a Deep Learning Professional
Kubernetes Essentials
Become an ASP.NET Core Developer
Become a React Developer
Become an API Integrator.
Fundamentals of Web Programming
Become an AdonisJS Developer
Become a VueJS Developer
Become a Django Developer
Become an Angular JS Developer
Become a Flask Developer
Web Development with PHP
Our Rating

Text-Based interactive courses.

Created by industry experts.

1000's of courses, projects, and paths accessible through subscription.
Learn More
Conclusion
In conclusion, Educative.io is an excellent platform for anyone interested in learning to code, advancing their skills in software development, or exploring new technologies. The platform offers a wide range of interactive courses and tutorials designed to be engaging, practical, and effective.
With its hands-on approach to learning, learners can write and run code directly within the course material, making it easier to apply what they learn in real-world scenarios. The platform's interactive coding environment is intuitive and easy to use, and learners can track their progress and earn certificates upon completion of each course.
Moreover, Educative.io offers a supportive community forum where learners can interact with each other, share their experiences, and get help from experts and mentors. This collaborative learning environment fosters a sense of community and provides learners with additional resources and support to help them succeed.
Overall, Educative.io is a highly recommended platform for anyone looking to improve their skills in software development or explore new technologies. Its interactive courses, practical approach, and supportive community make it an excellent choice for beginners and experienced professionals.