Udacity
Best Online Learning Platforms For Developers To Learn in 2023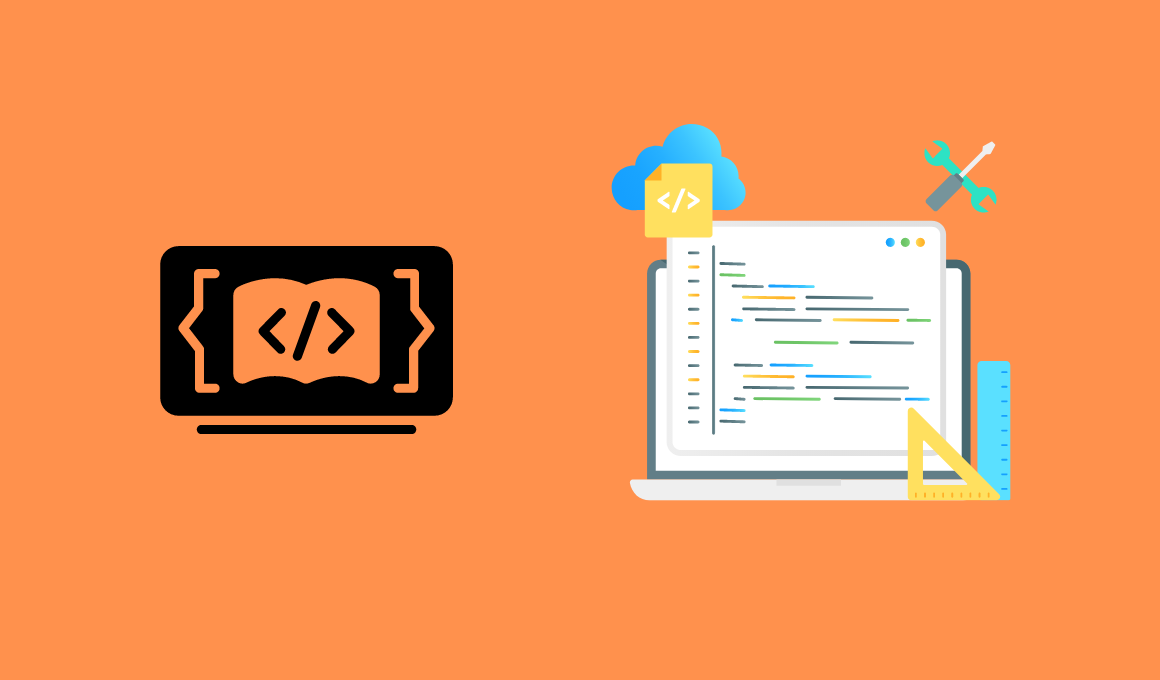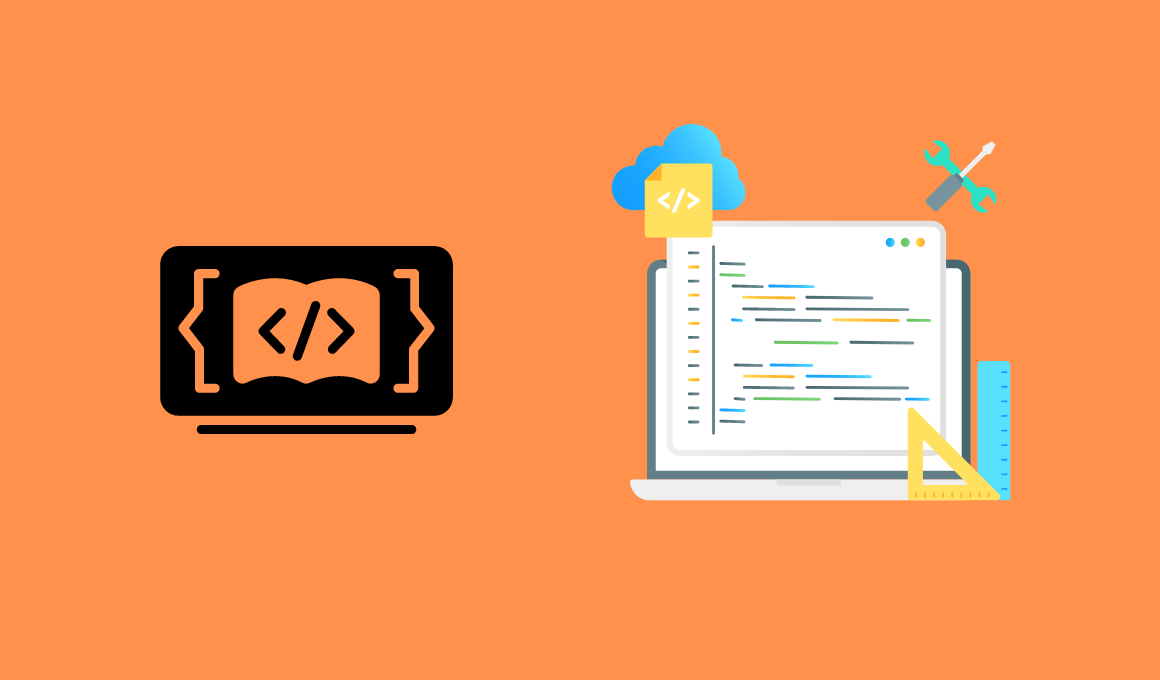 Listed here are the best online learning platforms for developers in 2022. Learning a software skill is intimidating to most students. But once you get past the intimidation, step ahead and start what you think you want to learn will make a better future.
Listed here are the best online learning platforms for developers in 2022. Learning a software skill is intimidating to most students. But once you get past the intimidation, step ahead and start what you think you want to learn will make a better future.
Most of the developers lack fundamentals and they start right at coding and find it difficult in wondering what's happening. Learning basics will give you tools to build a better product. So listed below are the top learning platforms that not only help you master a skill but also make you a better engineer.
Best Online Learning Platforms For Developers
1. Educative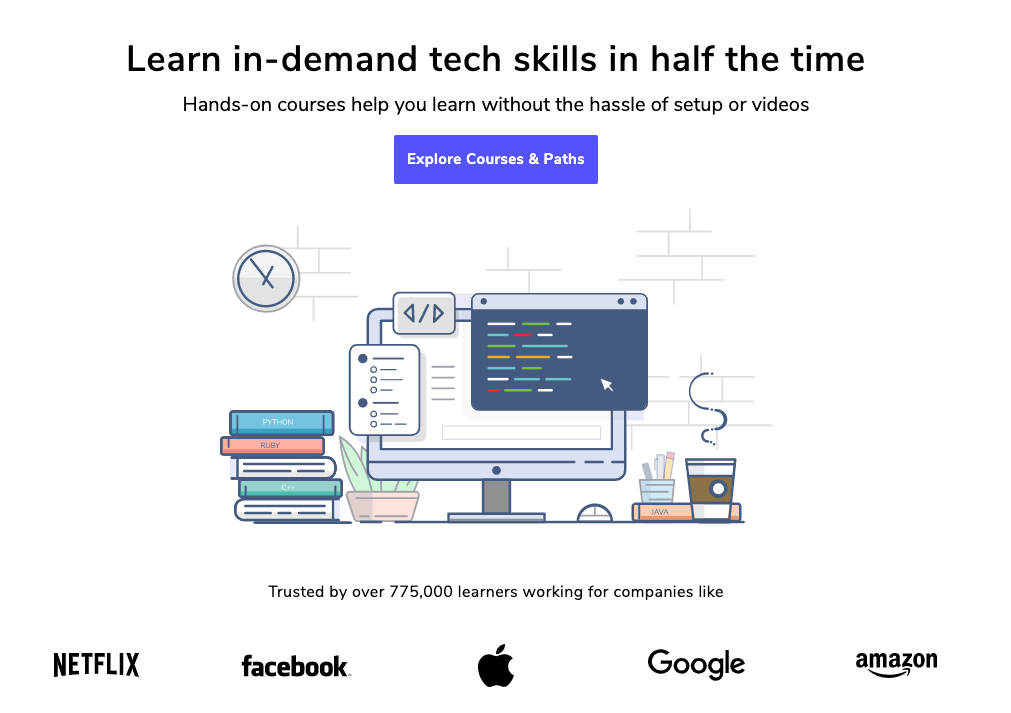 Educative has text-based courses with embedded coding environments that help you learn without the fluff.
Level up your coding skills – at the speed you want. Learn at your own pace. In-browser exercises. Free Sign-Up. Free preview lessons. No setup is required.
Coding interviews for beginners featuring 100+ courses taken by 6,00,000 learners.
It's no wonder that educative learners work at Google, Facebook, LinkedIn, Netflix, Uber, etc, due to their curated learning paths available on the educative-learning paths.
Educative has monthly, annual, Track (a track/path consists of courses to master a skill) and per course-based purchase plans.
A 30-day money guarantee is given to users who are not happy with their purchase.
Benefits:
Interactive course-based learning, no setup, and no passive learning.
1. Trusted by over 600,000 learners working for companies like Netflix, Facebook, Apple, Google, Amazon, and many more…
2. Hands-on coding environments, practice as you learn with live code environments inside your browser.
3. Faster than videos. Videos are holding you back. The average video tutorial is spoken at 150 words per minute, while you can read at 250. That's why their courses are text-based.
4. Curated path-based courses.
5. Courses are updated every month, with 5 to 10 new course releases each week.
6. Complete a path or a course and earn your certificate.
2. ZeroToMastery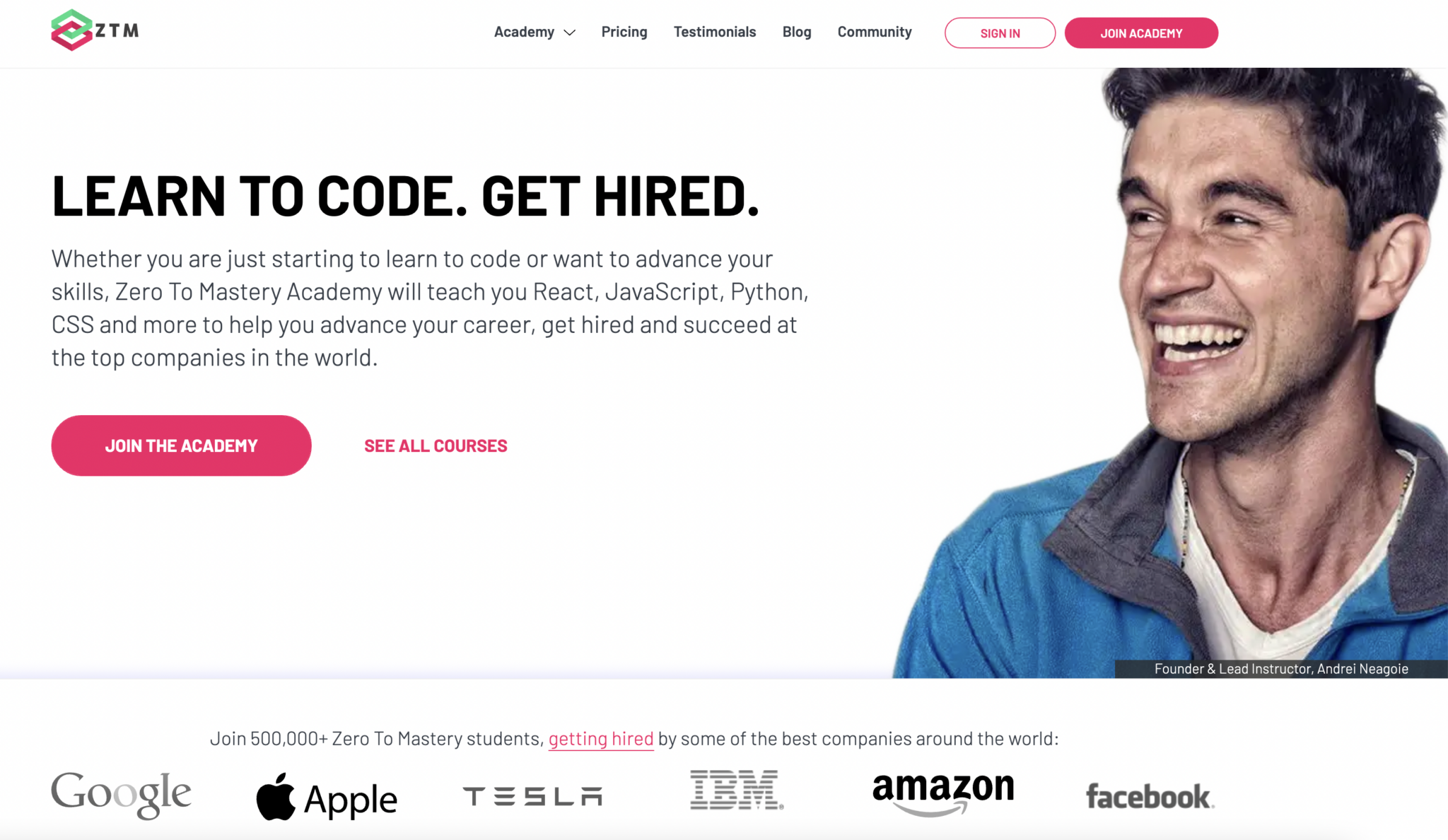 ZeroToMastery is a video, workshop-based platform that focuses on mastering a skill and applying them through workshops.
Learn To Code. Get Hired. Whether you are just starting to learn to code or want to advance your skills, ZeroToMastery academy will teach you React, JavaScript, Python, CSS, Git, and more to help you advance your career, get hired, and succeed at the top companies in the world.
They have free developer resources available on this ztm free resources.
Benefits:
1. Learn to code on your schedule, with over 600+ hours ( and counting) of lessons.
2. Build your portfolio: Unlike most online courses and free tutorials, you'll be using everything you receive offers from any company you can imagine.
3. Get Hired: You will gain the knowledge, confidence, and experience you need to ace interviews and receive offers from any company you can imagine.
4. Take your career to the next level.
5. New courses are released once in 3 weeks or 4-5 weeks.
3. Pluralsight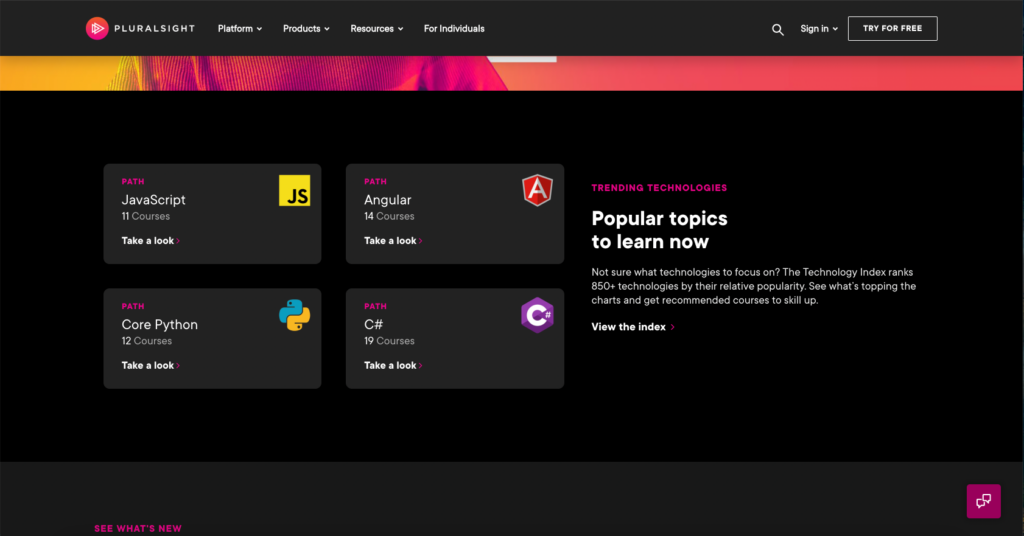 Pluralsight is another platform that offers a variety of video training courses for software developers, IT administrators, and creative professionals through its website. There are thousands of video courses, certification prep knowledge, guides, etc.
They offer a free 10-day trial and after which they charge based on monthly or yearly subscriptions.
Benefits:
1. Skill IQ – Assess your skill level and know your strengths and gaps.
2. Role IQ – You can discover the skills important to your role or the one you want.
3. Paths – Learn a new skill with their expert-curated paths.
4. Certification prep – They help you learn all the topics for certification and will help you prepare for your upcoming certification exams.
5. Courses are released weekly or bi-weekly.
4. LinkedIn Learning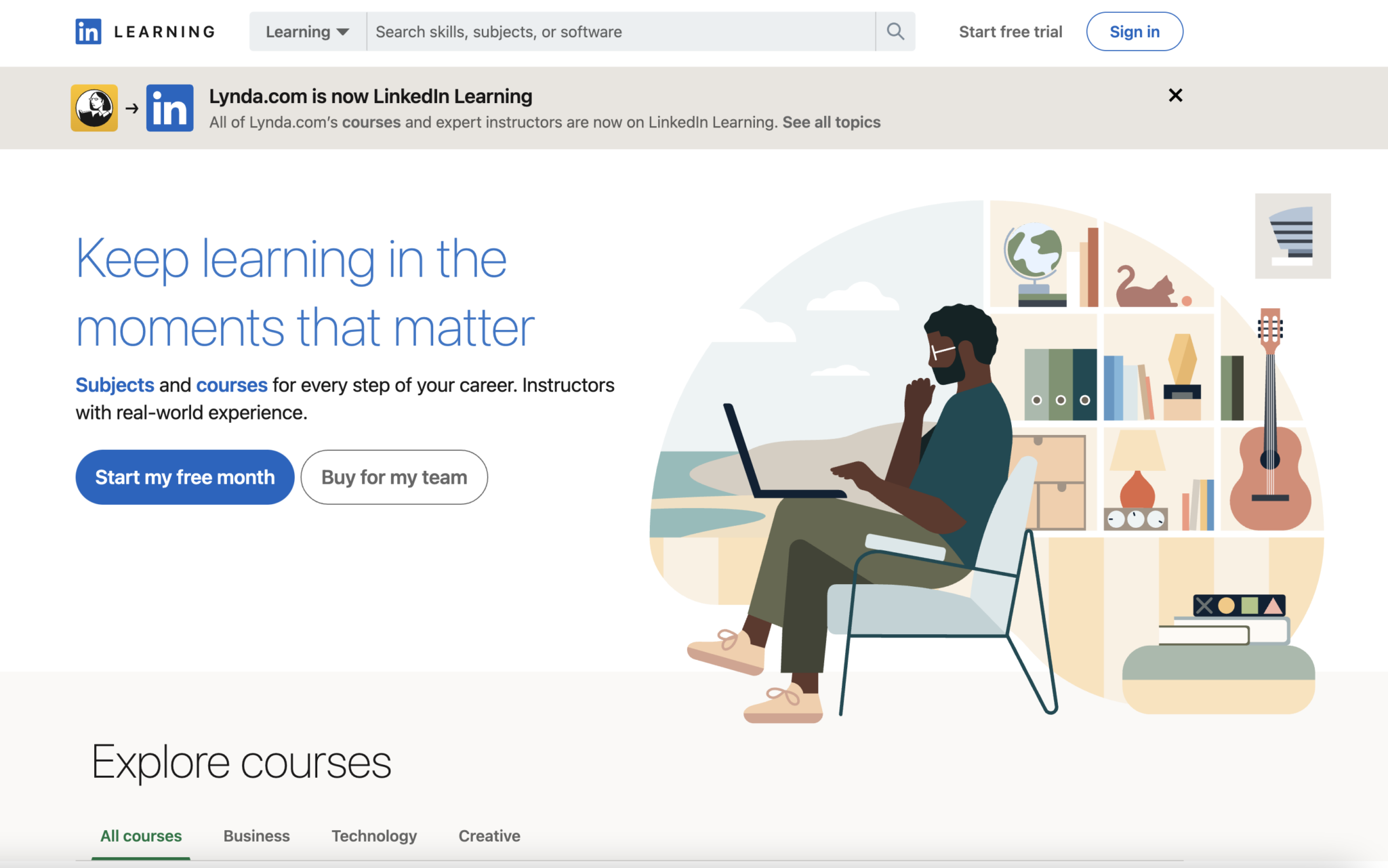 LinkedIn Learning is a professional community that connects the right people to know when you're open to work. You can privately tell recruiters or publicly share with the Linkedin community that you are looking for new job opportunities.
LinkedIn-Learning is part of Linkedin that helps you learn a skill.
Benefits:
1. Unlimited Library access: Access to 16,000+ courses taught by real-world professionals.
2. Interactive Learning, practice quizzes.
3. You will earn a certificate and that gets listed on your Linkedin profile.
4. Full access to Linkedin premium.
5. One-month free trial is available.
5. edX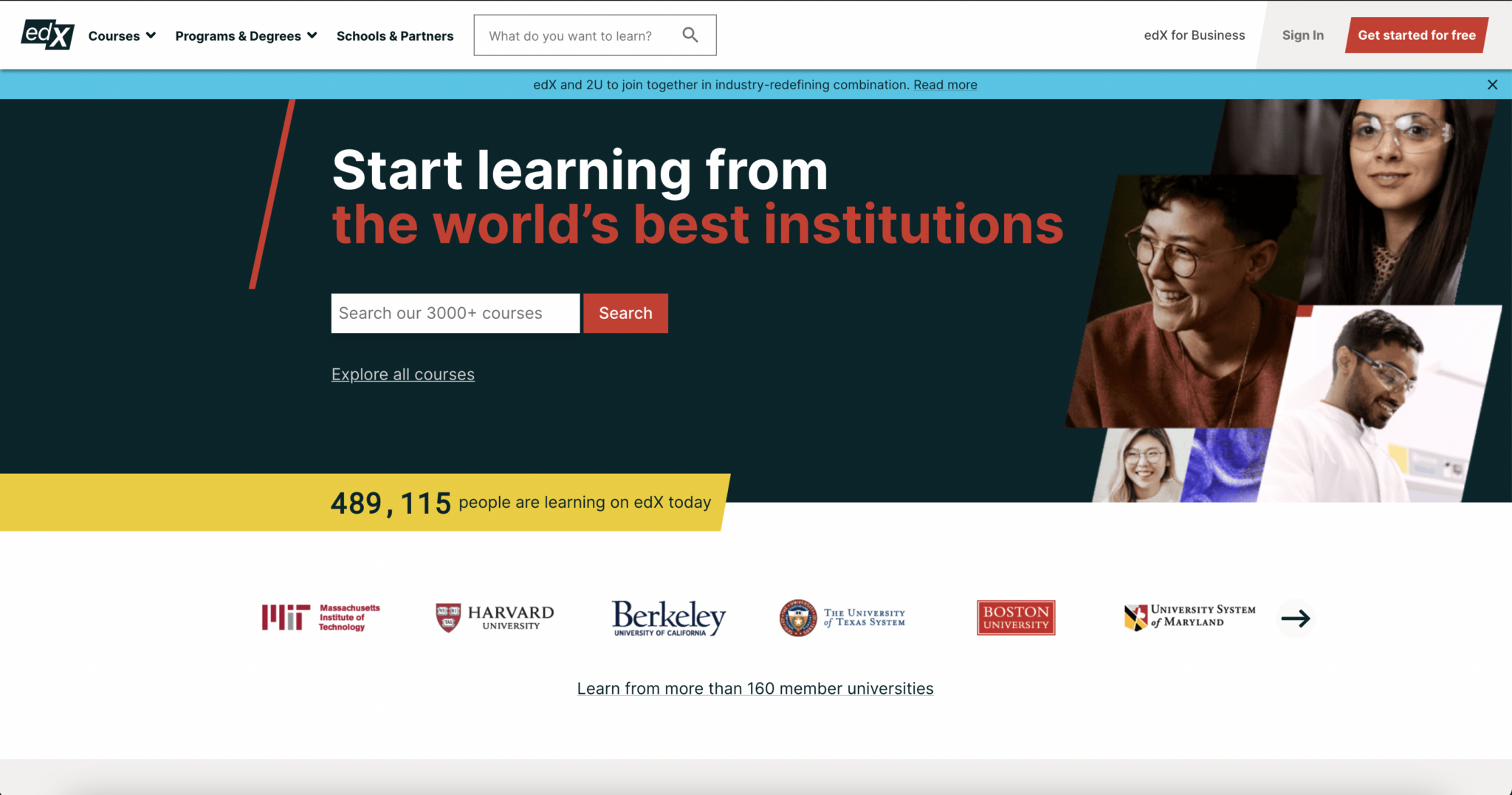 Every individual has the potential to create change, whether in their life, their community, or the world. The transformative power of education is what unlocks that potential. Yet, access to high-quality education has been a privilege of the few. Back in 2012, edX realized it was a time for a seismic shift in learning.
From the tried and true to the leading edge. From "for some" to "for all." By opening the classroom through online learning, edX empowers millions of learners to unlock their potential and become change-makers.
Benefits:
There are three commitments edX made to the world. They've been grounded by these since day one:
1. Increase access to high-quality education for everyone, everywhere
2. Enhance teaching and learning on campus and online
3. Advance teaching and learning through research
4. 3000+ courses.
5. 110 million enrollments.
6. 35 million users.
8. 160 partners.
7. 1.4 million verified course certificates were issued.
9. 15 thousand instructors.
6. Udacity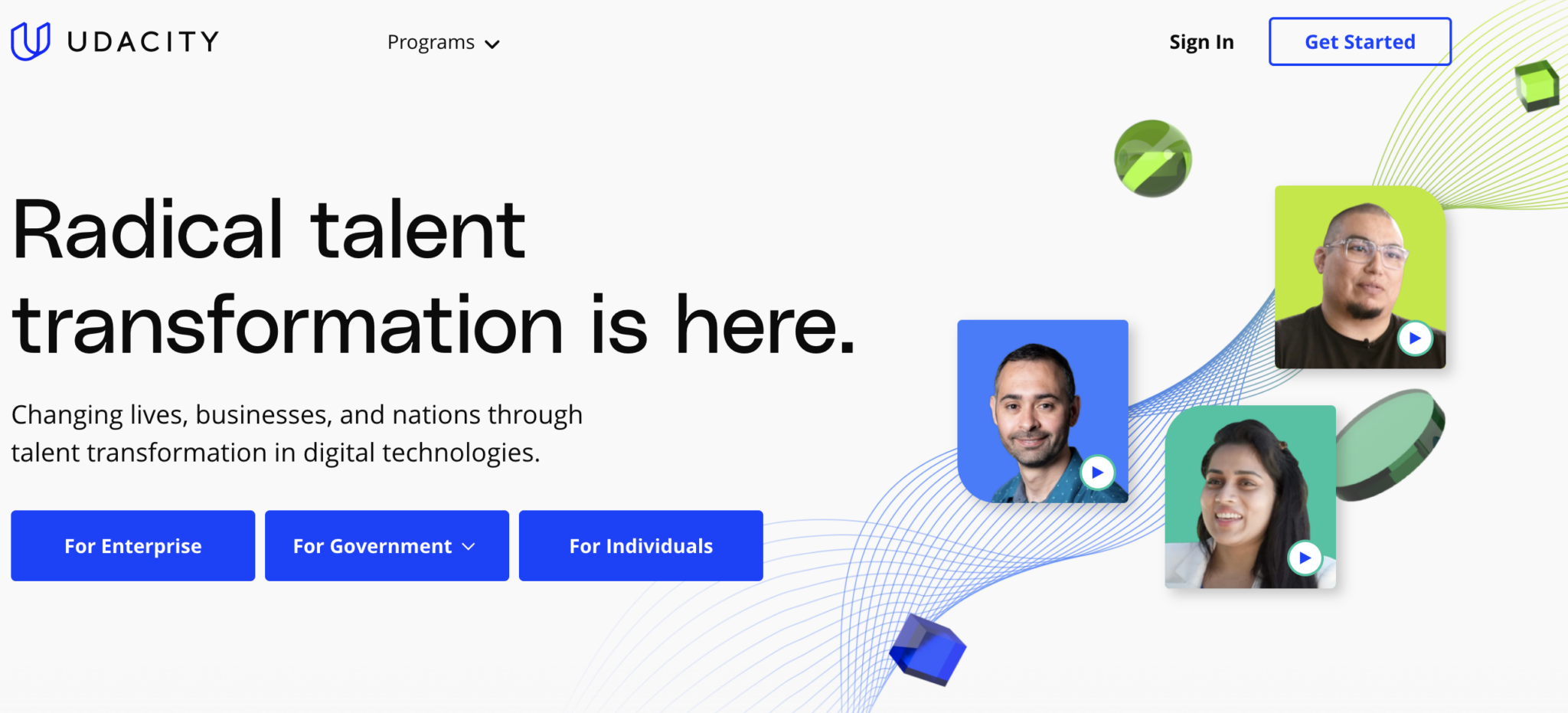 Udacity is where lifelong learners come to learn the skills they need, to land the jobs they want, to build the lives they deserve.
More than 40% of curated courses on Udacity are free, with guided projects and student community support.
Udacity is trusted by governments around the world.

Udacity Nanodegree programs consist of a combination of lessons and hands-on projects designed by industry leaders for technology practitioners. Their curriculum prepares students to use technological skills in a professional setting. To that end, Udacity sources many of our course materials in partnership with top companies like Accenture, Amazon, BMW, GitHub, IBM, Microsoft, Nvidia, and Uber ATG.
Their Nano degree programs exclusively focus on the most in-demand core and emerging technologies: Programming, Application Development, Digital Marketing, and Data Science.
Udacity offers free courses to students and professionals. Check them out here – Free Udacity Courses.
Benefits:
NanoDegree program: This supports following
A. Real-world projects from industry experts, project reviews, and feedback from experienced reviewers.
B. Technical mentor support.
C. Student Community.
D. Career Services.
E. Flexible learning platform.
F. Resume Support.
G. Github review.
F. LinkedIn profile optimization.
Get real-time employable skills.
Project-based active learning.
Career prepping and free resources.
7. Coursera
Coursera partnered with more than 200 leading universities and companies to bring flexible, affordable, job-relevant online learning to individuals and organizations worldwide. They offer a range of learning opportunities—from hands-on projects and courses to job-ready certificates and degree programs.
Coursera collaborates with top universities and companies like "The University of Michigan", "Google", "Penn University", "AWS", "IBM", "Standford", "Facebook", etc…
- There are 77+ million people who are already learning on Coursera.
Benefits:
1. World-Class Learning for anyone, anywhere, partnered with 200 leading universities and companies.
2. Affordable – Hundreds of free courses are available to get started.
3. Earn a university degree and enjoy a high-quality curriculum, affordable pricing, and flexible scheduling.
4. Flexible – Get on-demand lectures for desktop and mobile — on your schedule.
5. Job relevant, master essential career skills based on comprehensive skills data.
6. Build personal and professional skills with applied learning.
7. You will earn a certificate upon completion of a course.
8. Technical support throughout your course.
9. Guided projects.
10. Number of Specializations available to choose from.
11. Master track and professional certificates.
12. Earn Degrees, by learning full-time remote online.
8. Udemy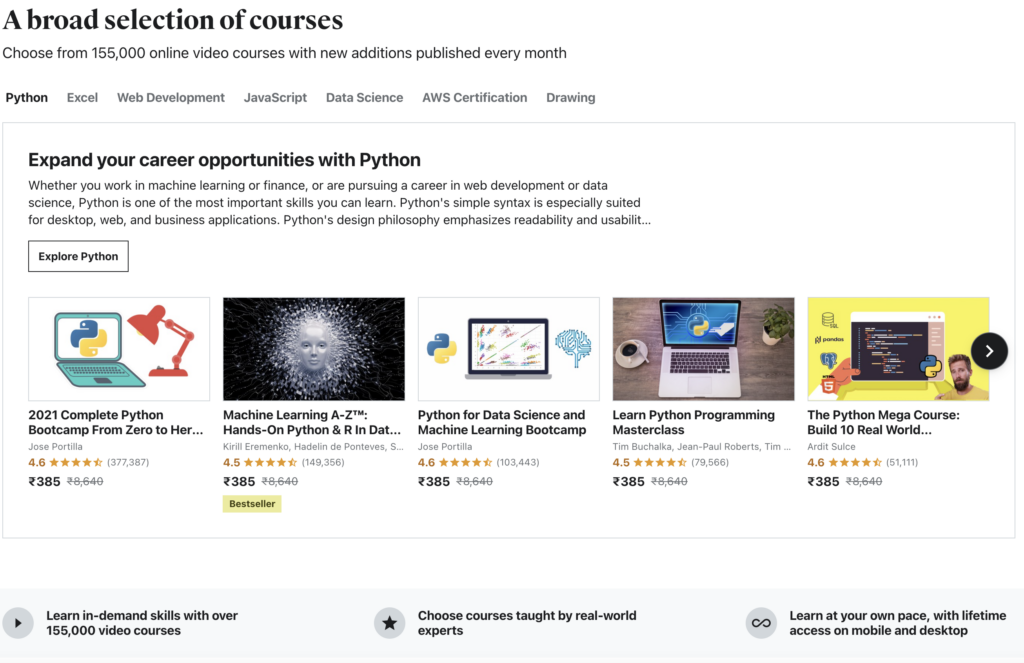 You want to learn something, and that probably could already be available in Udemy. Yes, Udemy has thousands of courses available, and it's a per course-based purchase.
Shop thousands of high-quality on-demand online courses. Start learning today. Learn at home, the office, waiting in line, or on the go.  Lifetime access.
Benefits:
Choose from 155,000 online video courses with new additions published every month.
Courses taught by real-world experts.
Their top-selling courses are on "Design", "Development", "Marketing", "IT and Software",  "Personal Development", "Business", "Photography", "Music". etc.
Trusted by companies like Apple, box, Netflix, Eventbrite, etc.
30-day guarantee.
Learn For Less. Real-world experts. Save Big. Learn Big. Over 50,000 Instructors. Love to Learn Sale.
9. Edureka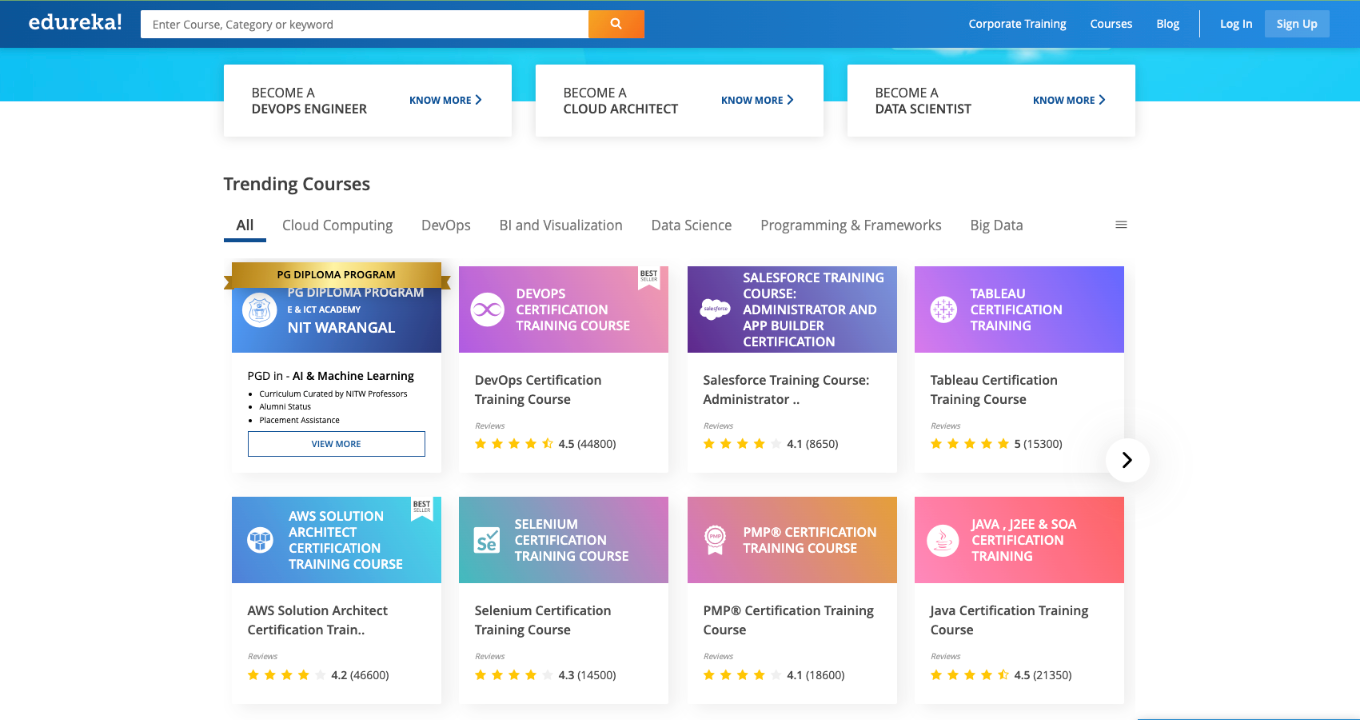 Edureka is an online training provider with the most effective learning system in the world. They help professionals learn trending technologies for career progression and new job opportunities.
Edureka has 100+ live online courses chosen by 50,000+ working professionals. They have the highest course completion rate in the industry.
Benefits:
Live courses taught by industry experts.
Course completion certificate.
Role-based course combos.
Top University Courses listed.
Trusted by – Cisco, TCS, Infosys, Mercedes, Visa, KPMG, Wipro, United HealthCare, etc.
10. DataCamp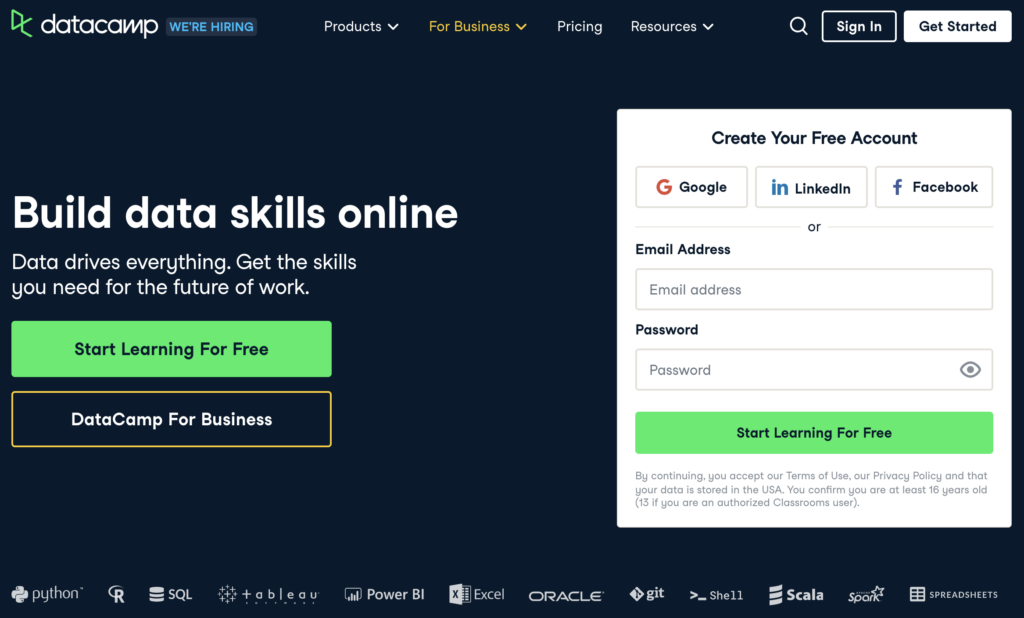 DataCamp provides online courses on R, Python & Data Science, etc. Companies and teams of every size use DataCamp to close their skill gaps and make better data-driven decisions.
DataCamp also provides certificates, they are 100% worth it. Like other certificates, their certificates will help you prove that you can conduct some machine learning and data analysis tasks. They can be helpful to put on your resume when you are looking for a job.
Benefits:
They only offer courses in data science and analytics.
Course completion certificate.
Role-based course combos.
Trusted by – Google, Intel, eBay, Paypal, Uber, Deloitte, etc.