Educative.io
Educative, Is It Worth Buying? Full Review in 2023.
Use Coupon code CODELZ2022 to get 15% discount on all educative subscriptions. Educative is a text-based interactive learning platform focusses on coding not setup.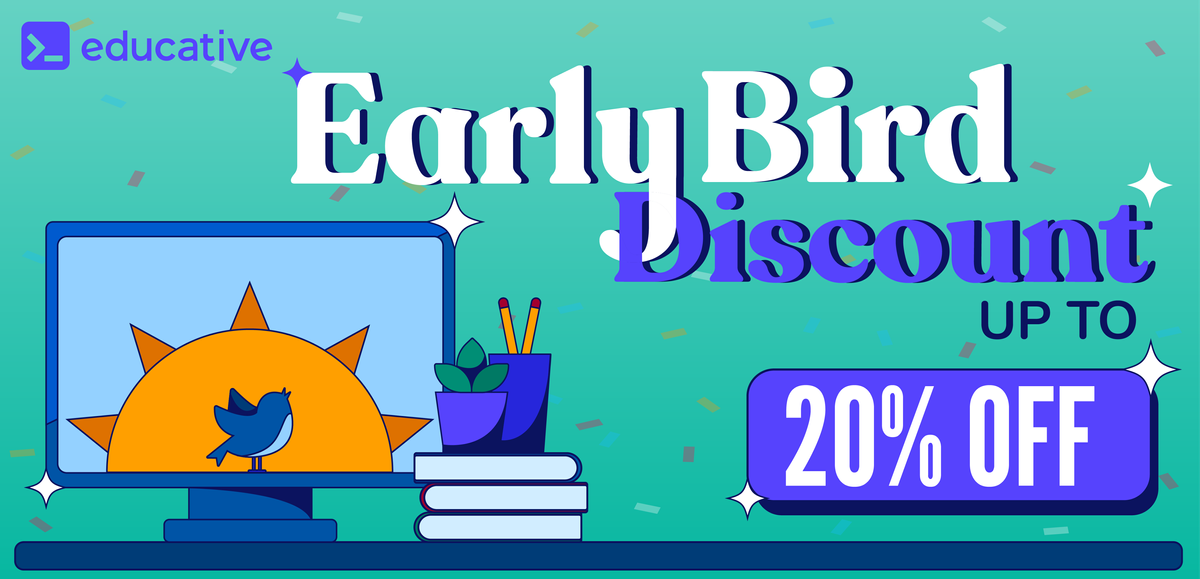 Educative is an online learning platform for students, software aspirants, and experienced software engineers who want to master coding to get a new job, move to the next level in the same organization, or improve coding standards.
I, for one, was an educative fan when they introduced educative paths for proper career build-up.
They have a vast(and growing) library of 800+ hands-on courses. Regardless of your goals, you'll find plenty of content to sink your teeth into.
Accelerate your career in 2 months.
170 Hands-on projects: Fast-track learning with hands-on projects covering the industry's most in-demand technologies.
Personalized maths: Level up faster with a personalized path tailored to your unique learning goals.
Access 650 courses: Your free trial lets you access hundreds of popular learning resources*, including best-selling courses on web development, cloud, machine learning, and data science.
Learn by doing: Get your hands dirty with in-browser coding exercises, playgrounds, and assessments.
Get completion certificates: Built-in assessments let you test your skills. Completion certificates let you show them off.
🤔 Why should you consider joining?
Educative helps developers to be more productive.
They have 1.6 million developers learning in their platform, working in companies like Netflix, Meta, Apple, Google, and Amazon.
Are you bored with watching videos from YouTube or other learning platforms where you can't take notes or bookmark the video at a particular timeframe?
Educative makes it easy for you. Everything is text-based. You can bookmark, highlight, and even switch between Light & Dark themes.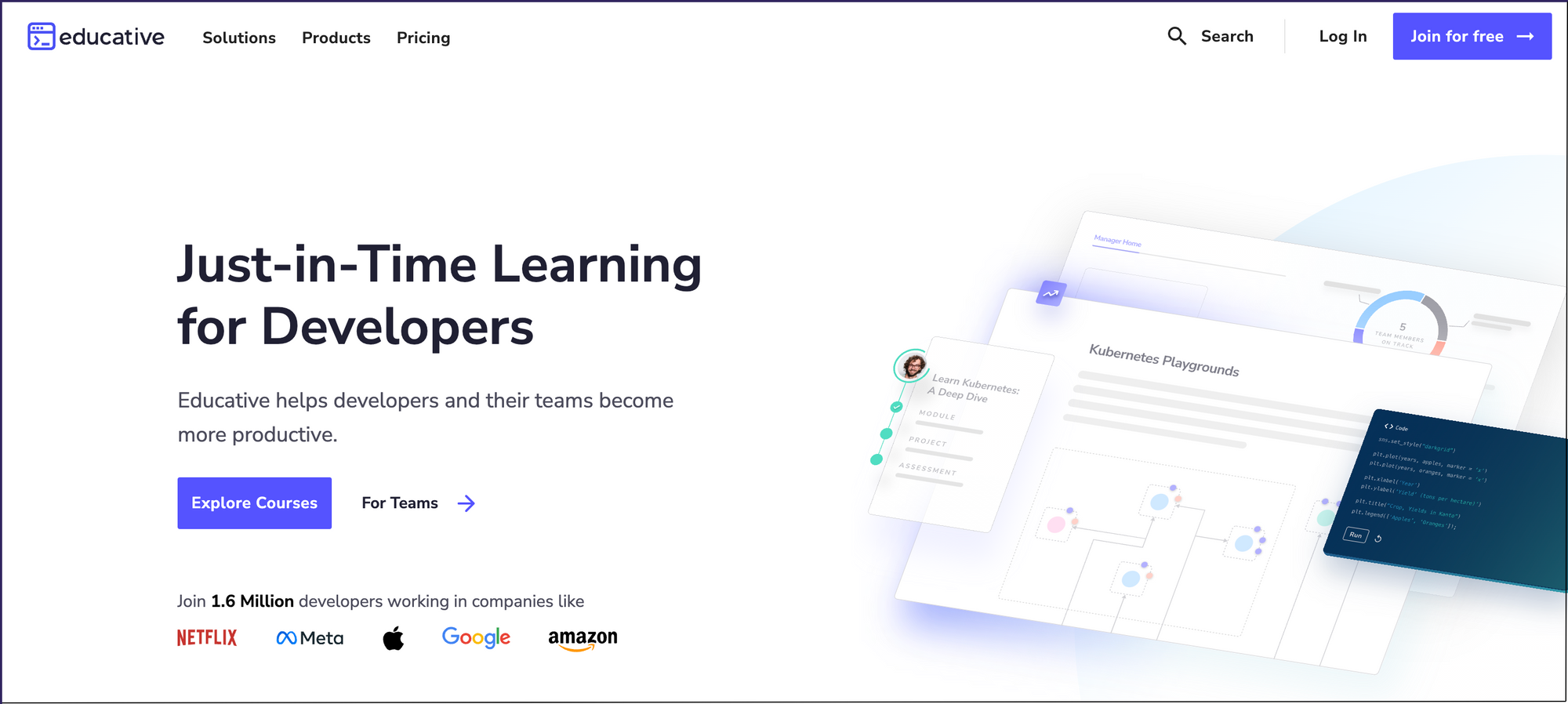 Educative focussed on following 4 aspects.
Learn Interatively
Learn Faster
Personalize your learning.
Build Real-world projects.
🤩 What does educative offer?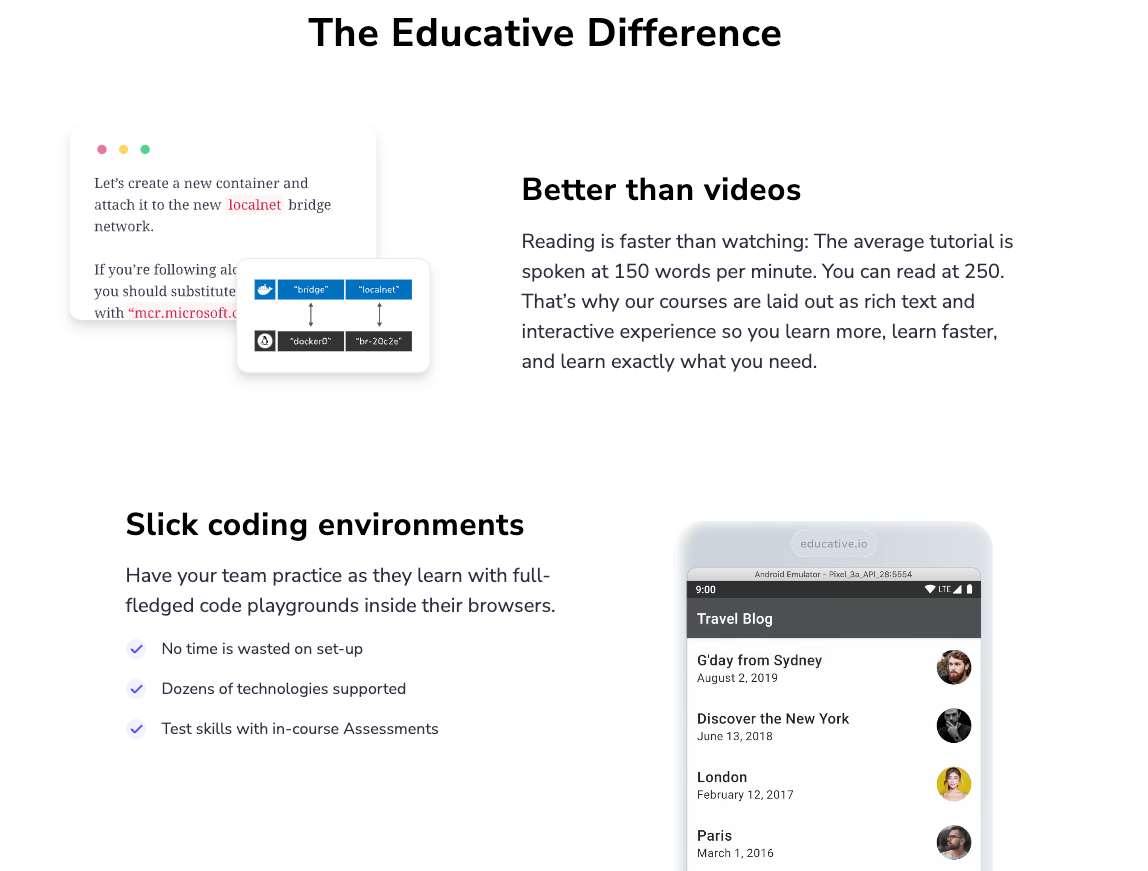 Courses are text-based with embedded coding environments that help you learn without the fluff.
Level up your coding skills—at the speed you want. Learn at your own pace—in-browser exercises. Free Sign-Up. Free preview lessons.
They make it possible with their "interactive-course-based learning", no setup required, and no more passive learning.
Interactive in-browser environments keep you engaged and test your progress as you go.
They update courses every month to match the latest tech releases.
👨🏻‍💻 Hands-on coding environments (Interactive)
You don't need any setup at all. They provide integrated environments on their platform for you to focus on learning rather than setup.
You don't get better at swimming by watching others. Coding is no different. Practice as you learn with live code environments inside your browser.
‍💻 Hands-on projects: Real-World Applications
🔐 Run Live Applications In Your Browser
🤑
Claim a 15% discount on all educative.io subscriptions using coupon code - CODELZ2022
💨 2x Faster Learning
Reading is faster than watching: The average tutorial is spoken at 150 words per minute. You can read at 250. That's why our courses are laid out as rich text and an interactive experience, so you learn more, learn faster, and learn precisely what you need.
🎯 Assessments: Measure Your Skill Score
🛣️ Personalized Paths
Pros and Cons
Let us talk about the pros and cons of Educative
✅ Pros
Text-based courses with highlights features.
Courses are created by people working in fast-paced startups, FAANG and some are computer scientists(his PhD).
Learn at your own pace.
Highlight text for easy reference.
Earn certification after finishing a course.
Curated Skill Paths
Personalized paths
Real-world projects.
Skill assessments.
More than 800+ courses in the library and growing.
More than 60+ skill paths are available.
Vast community with over 1.6 million.
❌ Cons
Subscription is expensive. (You can use the CODELZ2022 coupon for a 15% discount)
If you're stuck, you get help in 24 hours from the author and not right away.
🤑 Pricing Plans
Learn to code, grow your skills, and succeed in your tech interview. They have 3 pricing plans. All plans come with full access to all courses.
What you get with subscription?
Educative offers the following products free with its subscription plan.
1. Personalized paths
Industry experts curate paths, and the content on topics are tailored to your skills, objectives and time constraints.
Finding the best coursework and building a curriculum on your own is time-consuming. Start learning now – answer a few quick questions to begin this plan.
Share your learning objectives, and answer a few questions to share your learning goals and preferences. Get a personalized path; based on your responses, educative recommends a personalized path tailor-made to achieve your learning objectives. Make the most out of the Educative platform and achieve your learning goals.
2. Assessments
Identify your skill gaps by taking an Educative assessment to benchmark your current coding skills. Understand your strengths and weaknesses to improve your skills.
3. Skill paths
All Skill paths are carefully curated to help you achieve a specific learning goal. Find the perfect skill path for your needs. There are more than 60+ paths, out of which the following are the most watched.
Python for Programmers
Become a Machine learning engineer
Scalability & System Design for developers
Ace the Python Coding interview
Ace the Java Coding Interview
Become an AWS Professional
React for Frontend developers
Become a Data Scientist
Android development with Ionic and Angular
4. Projects
The best way to learn is by doing. Educative Projects enable software engineers through a learn-by-building model. Educative's hands-on interactive learning platform allows learners to develop and apply skills through full-featured technical projects that don't require any production setup.
No third-party access is needed.
Code inside the browser.
No development sandbox set-up.
Access to computing resources and storage space.
🤩 Benefits of Educative Subscription
Industry experts teach courses, so acing a coding interview can be easy.
A subscription costs over $100, and you get 1 full year of access to the entire library of courses and paths.
The salary of an SDE-1 in FAANG, a fast-paced startup, is above $150k + benefits.
Also, the content taught here is 100% enough to ace the toughest coding interviews.
Senior engineer salaries vary from $350k to $500k per year. So there is a huge upside in shaping your future by learning from Educative.
Conclusion
Whether you should buy it, or leave it?
We would say, register and enjoy the 14-day trail period and if you're satisfied pick a plan that works for you and if you're not satisfied don't subscribe for plans. In any case, we recommend trying out educative.io for a month and you will definitely get every penny back.