Educative is an online learning platform for students, software aspirants, and experienced software engineers who want to master coding to get a new job, move to the next level in the same organization, or improve coding standards.
I, for one, was an educative fan when they introduced educative paths for proper career build-up.
They have a vast(and growing) library of 1000+ hands-on courses. Regardless of your goals, you'll find plenty of content to sink your teeth into.
💡
UPTO 20% OFF using code CODELZ2022 on all educative plans
Unleash Your Learning Potential with Educative's Year-End Sale!
As the year draws to a close, it's the perfect time to reflect on our accomplishments and set our sights on new goals. For many, this includes furthering their education and honing their skills. If you want to embark on a learning journey, you're lucky! Educative, the platform known for its interactive and hands-on coding courses, is hosting a spectacular Year End Sale you won't want to miss.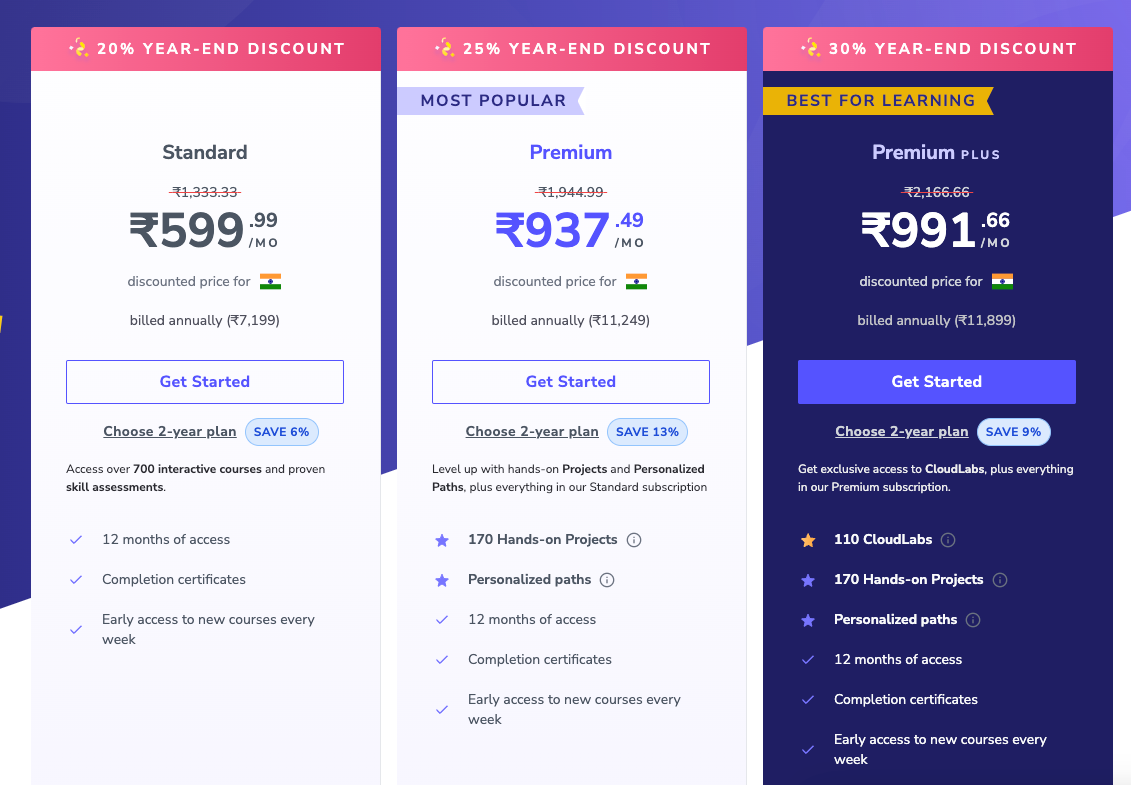 Elevate Your Skill Set
Whether you're a seasoned developer or just starting your coding journey, Educative offers a wide array of courses catering to learners of all levels. From mastering popular programming languages like JavaScript, Python, and Java to diving deep into advanced topics like data structures, algorithms, and system design, Educative has you covered.
With hands-on coding environments directly integrated into the platform, you can apply what you learn in real time, solidifying your understanding and boosting your confidence as you progress through the courses. This practical approach to learning sets Educative apart, allowing you to grasp theoretical concepts and gain invaluable coding experience.
Accelerate your career in 2 months.
170 Hands-on projects: Fast-track learning with hands-on projects covering the industry's most in-demand technologies.
Personalized maths: Level up faster with a personalized path tailored to your unique learning goals.
Access 650 courses: Your free trial lets you access hundreds of popular learning resources*, including best-selling courses on web development, cloud, machine learning, and data science.
Learn by doing: Get your hands dirty with in-browser coding exercises, playgrounds, and assessments.
Get completion certificates: Built-in assessments let you test your skills. Completion certificates let you show them off.
🤔 Why should you consider joining?
Educative helps developers to be more productive.
They have 1.6 million developers learning in their platform, working in companies like Netflix, Meta, Apple, Google, and Amazon.
Are you bored with watching videos from YouTube or other learning platforms where you can't take notes or bookmark the video at a particular timeframe?
Educative makes it easy for you. Everything is text-based. You can bookmark, highlight, and even switch between Light & Dark themes.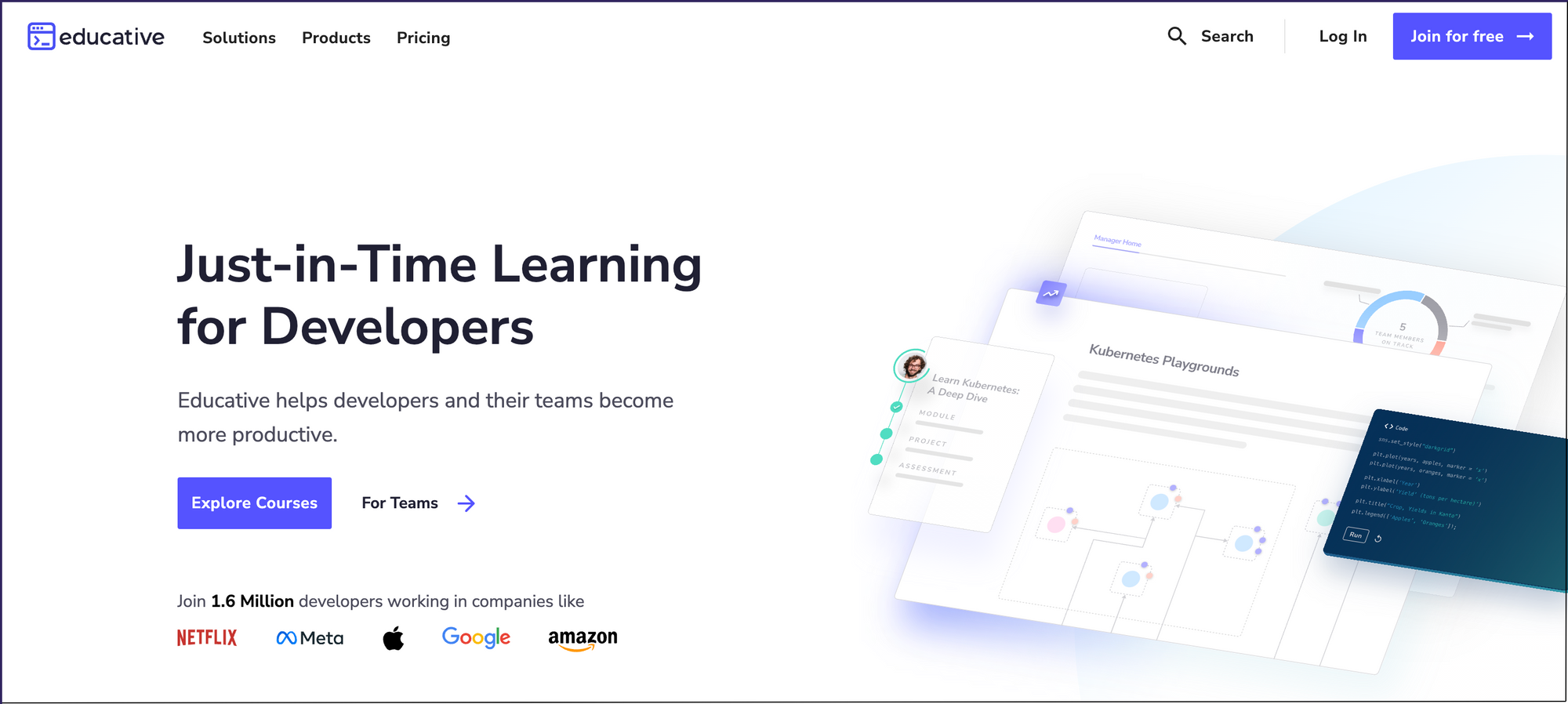 Educative focussed on following 4 aspects.
Learn Interactively
Learn Faster
Personalize your learning.
Build Real-world projects.
🤩 What does educative offer?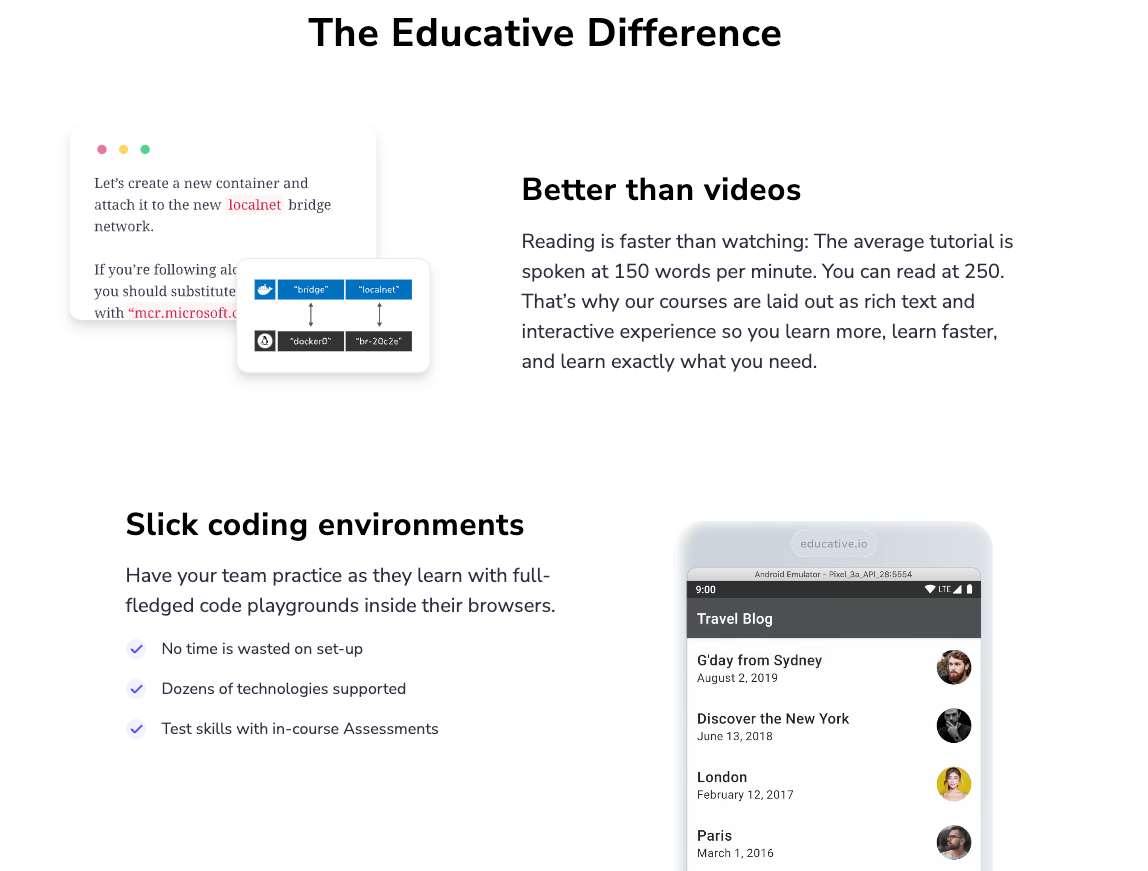 Courses are text-based with embedded coding environments that help you learn without the fluff.
Level up your coding skills—at the speed you want. Learn at your own pace—in-browser exercises. Free Sign-Up. Free preview lessons.
They make it possible with their "interactive-course-based learning", no setup required, and no more passive learning.
Interactive in-browser environments keep you engaged and test your progress as you go.
They update courses every month to match the latest tech releases.
What Sets Educative Apart?
1. Interactive Learning Environments:
Educative provides an in-browser coding experience, allowing you to practice and experiment with code without additional tools or setups.
2. Expertly Designed Courses:
Courses on Educative are created by industry experts who deeply understand the subjects they teach. You'll be learning from the best in the field.
3. Real-world Projects:
Many courses include guided projects that simulate real-world scenarios, giving you a taste of what it's like to work on actual development tasks.
4. Continuous Feedback:
Receive instant feedback on your code, helping you identify areas for improvement and reinforcing best practices.
5. Lifetime Access:
Once you purchase a course, you have lifetime access to the content. This means you can revisit and review the material at your own pace.
Exclusive Year-End Sale
Educative offers incredible discounts during their year-end sale to sweeten the deal. This is your chance to invest in your education and set yourself up for success in the coming year. Whether you're looking to upskill for career advancement or indulge your passion for coding, now is the time to leap.
Don't Miss Out!
The Year End Sale at Educative is a limited-time offer, so don't wait too long to decide. Seize this opportunity to invest in yourself and your future. Head over to Educative's website now and explore their extensive library of courses. With the right knowledge and skills, the possibilities are endless.
Remember, education is the foundation upon which great achievements are built. Make this year's sale your stepping stone towards a brighter and more successful future. Happy learning!